Industry-Leading Product Destruction
Valicor's Product Destruction and Soap Recycling program is one of the largest in the nation and includes reuse, recycling, wastewater treatment and energy recovery programs. For customers who request it, Valicor offers facility specific Zero-Waste-To-Landfill programs and Corporate Waste Reduction (Sustainability) Programs.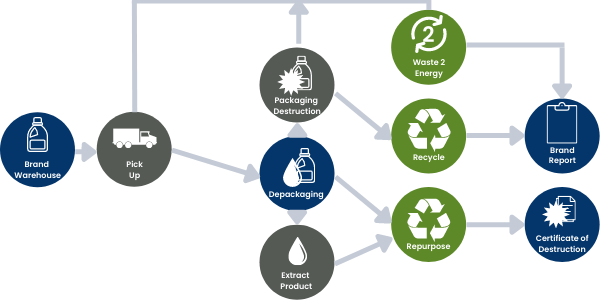 We Divert 50+ Million Pounds of Surfactants from the Landfill Annually
Valicor operates product destruction services at various plants to process bulk, low level surfactant waters.
Our Capabilities:
Industrial shredding and landfill and/or energy recovery
Carbonated beverage shredding and wastewater treatment
Surfactant recovery and reuse or wastewater treatment
Line flush wastewater treatment
24/7 video surveillance and tracking from customer to processing
Certificates of destruction/recycling/processing issued for every load
Monthly feedback reports for documenting customer's sustainability goals
Product Categories:
Home Care
Auto Care
Bulk Materials
Personal Care
Food and Beverage
Cost Reduction
Reduce waste-management fees through alternative solutions.
End-to-End Processing
Turnkey, single-provider services from product pick-up to certificate of destruction to product repurposing. 24/7 surveillance system to ensure all materials are being properly handled.
Zero Waste
Multiple outlets for package destruction and material extraction to meet 100% recycling goals.
Ready to Talk with Us?
Get more information on how Valicor can help you with product recyling, reuse, & repurposing!