Industrial Cleaning and Field Services
Valicor provides critical project support through our Industrial Cleaning and Field Services at our Michigan, Indiana, Ohio, and Missouri facilities. We maintain the personnel, equipment, and support teams to ensure projects are executed both safely and effectively for your operational success. Our crews receive extensive training and equipment readiness exercises to ensure seamless execution of your projects. Our services include: water blasting, wet and dry vacuuming, water and grit blasting, dry ice blasting, and field services.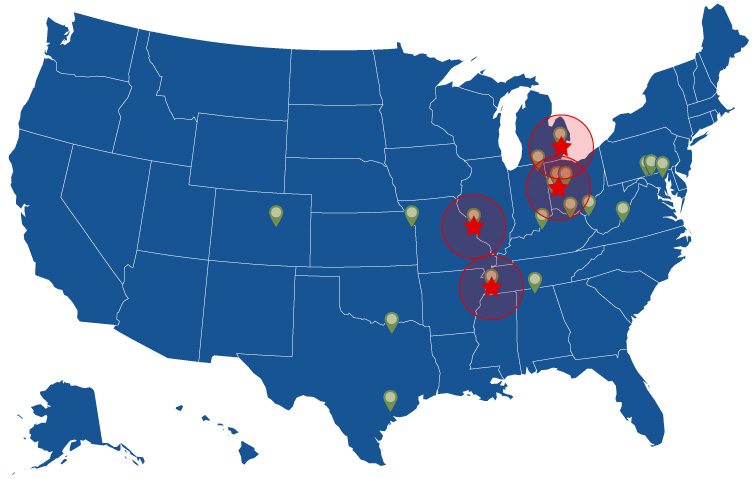 Water Blasting
3K-40K Water Blasting
Cleaning: Stack and Fan, Phosphate Systems, Booths, E-Coat Systems, Ovens
Wet and Dry Vacuuming
Fly Ash
Duct Work
Coal and Ash
Pit, Sump, and Tanks
Water and Grit Blasting
Air Heater Baskets
Automated Tooling
High Energy Boiler Wash
Hand Lancing 3K-40K
Dry Ice Blasting
Manufacturing Equipment
Electrical Boxes / Cable Trays
Chemical and Dry Paint Remnants
Bio-Films and Rust Films
Fugitive Dust Mitigation
Field Services
Vacuum services for Construction or Remediation site
Material Recovery/Transfer Services
Facility Decommissioning/Closures
Decommissioned Exterior Vaults/Pits


Millions of square feet served
General Motors
To demolish a part of a manufacturing facility for retooling, GM required cleaning of the paint shop and removal of all flammable and hazardous substances. Using a dry-ice blasting machine and specialty cleaning chemicals, Valicor completed the complex project on time and with no complications, keeping GM's demolition project on schedule.
Carmeuse and Stone
During a short shutdown, Carmeuse needed an excessive build-up of fly ash cleaned out and disposed of during a weekend shutdown. Valicor used field technicians and a hydro vacuum truck to remove the excess fly ash and clean the facility, improving the environmental quality at the plant.
AAM Bluffton
To remove industrial sludge and metal shavings from the wastewater offloading pit, Valicor performed a permitted confined space entry to move the sludge to the 5,000 cfm vacuum truck hoses. Valicor's team successfully removed 11 tons of oily sludge and metal shavings returning the pit back to full capacity.
Contitech USA
This industrial wastewater treatment plant needed routine removal of residential solids and scale from the tanks. Valicor used vacuum trucks to remove free liquids and residual sludge and solids. Each tank was pressure washed from the inside to ensure proper function when the plant processing restarted.
Additional Industrial Cleaning Services:
Frac Tank, Vacuum Box, and Roll-off Box Cleaning
Railcar Cleaning
OWS & Pit Clean-Outs
Tank Cleanings
Confined Space Entry
Spill Clean-Ups
Line Inspection and Jetting
In-Plant Services
Waste Brokerage Service
Characterization, Profiling, Transportation, and Disposal
Chemical Cleaning
Utility Manhole, Vault, and Drain Cleaning
Ready to Talk with Us?
Looking for a partner to tackle your tough industrial cleaning projects? Start a conversation with us today.