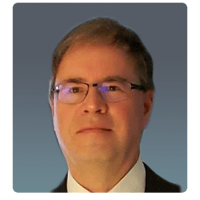 Bob Cook
Executive Vice President, Engineering & Technology
Bob received his B.S. in Chemical Engineering (ChE) from the Pennsylvania State University. He traveled extensively in his first job, performing ceramic membrane pilots in a myriad applications ranging from HPI/CPI to metals finishing and semiconductor.
In 1994, he formed a company (MET) with two trusted friends and moved to Houston, TX where he developed a caustic regeneration process based on reaction crystallization. While at MET, he served as Technical Manager, cultivating a talented team of ChE's that helped establish the company as the preeminent provider of byproduct recovery services for specialty chemical and refining industries. The company was acquired by USFilter (retained by Veolia after sale of USFilter) where he served as the SVP of Engineering and Technology development for Veolia North America Industrial.
Bob joined Valicor in July 2022 as EVP of Engineering and Technology Development. He currently manages Valicor's process engineering and development lab out of its new Houston, TX location. His team provides operational support and troubleshooting, new application development, and works with various partners and vendors to improve existing CWT's operational and safety performance.
Get to Know the Rest of the Team
Learn more about the other members of our leadership team!